From the Onsite Kitchen
YIELD: 4 SERVINGS
We set out to create a vegetable side dish that is a complement to any main dish. This burnt carrot salad is guaranteed to bring your meal to the next level.
Ingredients:
12 carrots, baby rainbow, peeled and ends trimmed off
8 oz orange juice 2 tbsp orange zest 2 sprigs of thyme 2 cloves of garlic
1 tbsp kosher salt
4 tbsp (divided) extra virgin olive oil Freshly ground black pepper as needed 2 firm avocados, halved and thickly sliced 1/2 c feta cheese, crumbled
1/4 c red onion, pickled, julienned 1/2 c cilantro
2 tbsp flat-leaf parsley, chopped 1 tbsp lemon juice
3 tbsp pumpkin seeds, toasted and salted
Steps:
Cut carrots in half lengthwise and then cut them into 3.5-inch segments. Bring orange juice, orange zest, thyme, garlic and 1 tablespoon kosher salt to a low simmer and slowly poach carrots until theyare easily pierced with a paring knife. Cool slightly. Dry carrots really well with a kitchen towel.
To "burn" carrots, bring a cast-iron pan to medium- high heat and coat it with 1 tablespoon olive oil. Once oil starts to smoke, season carrots with salt and pepper and lay in a pan cut-side down.
Turn heat down to medium and let carrots start to slowly develop a nice, even, dark char. If the pan is too hot, it will burn carrots.
Once carrots are charred, pull them out of the pan and set aside to cool to room temperature.
In a large mixing bowl combine cooled carrots, avocado, feta, pickled onion, cilantro and parsley. Season with salt and pepper and dress with lemon juice and remaining olive oil.
Divide salad evenly among 4 plates and garnish with toasted pumpkin seeds.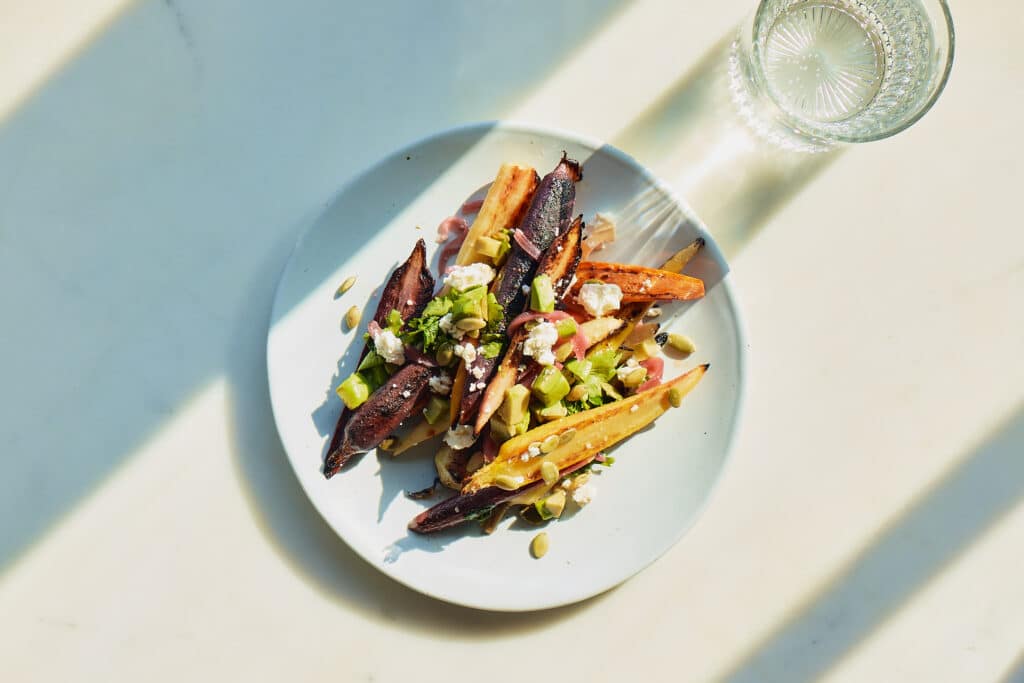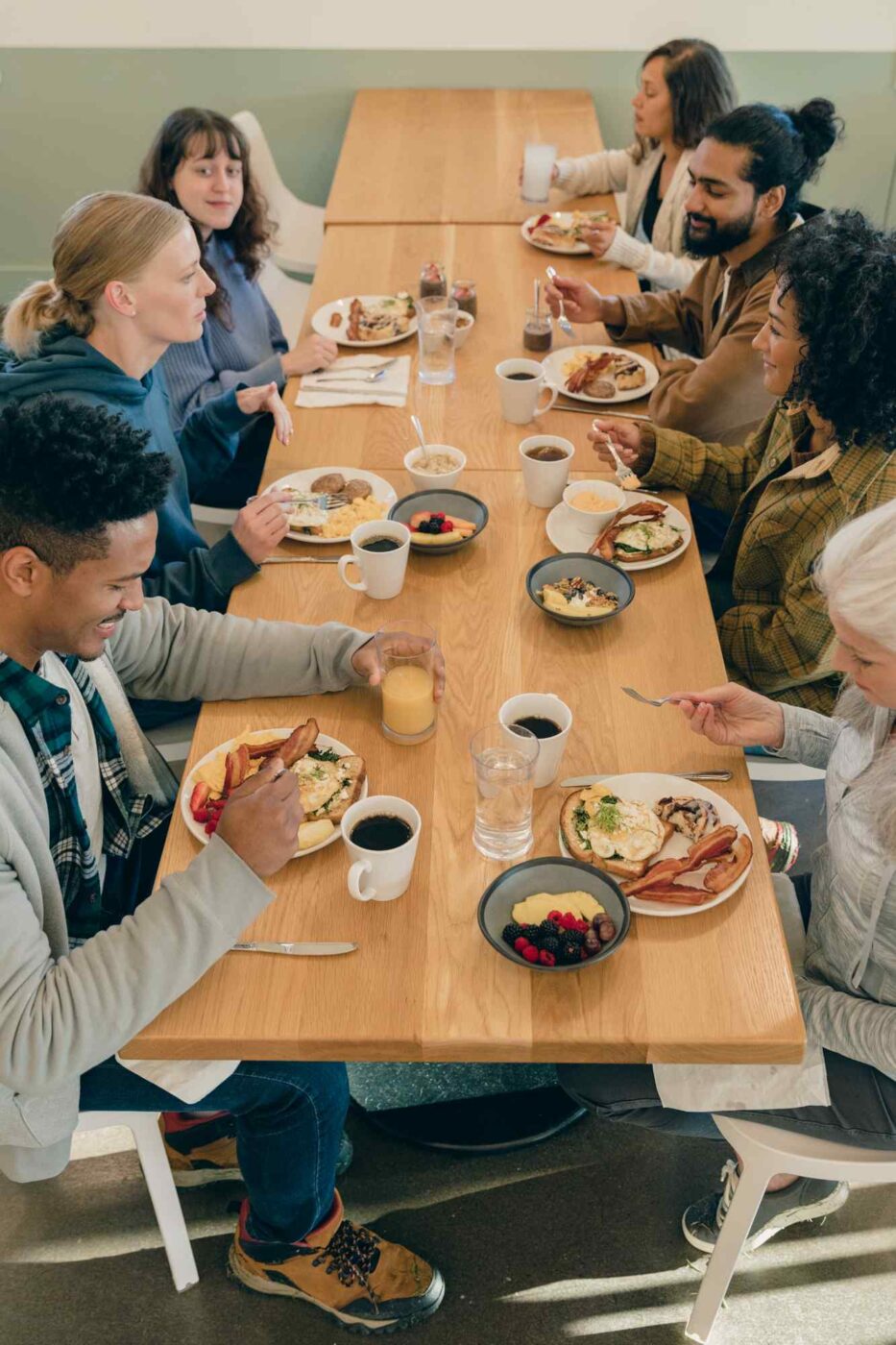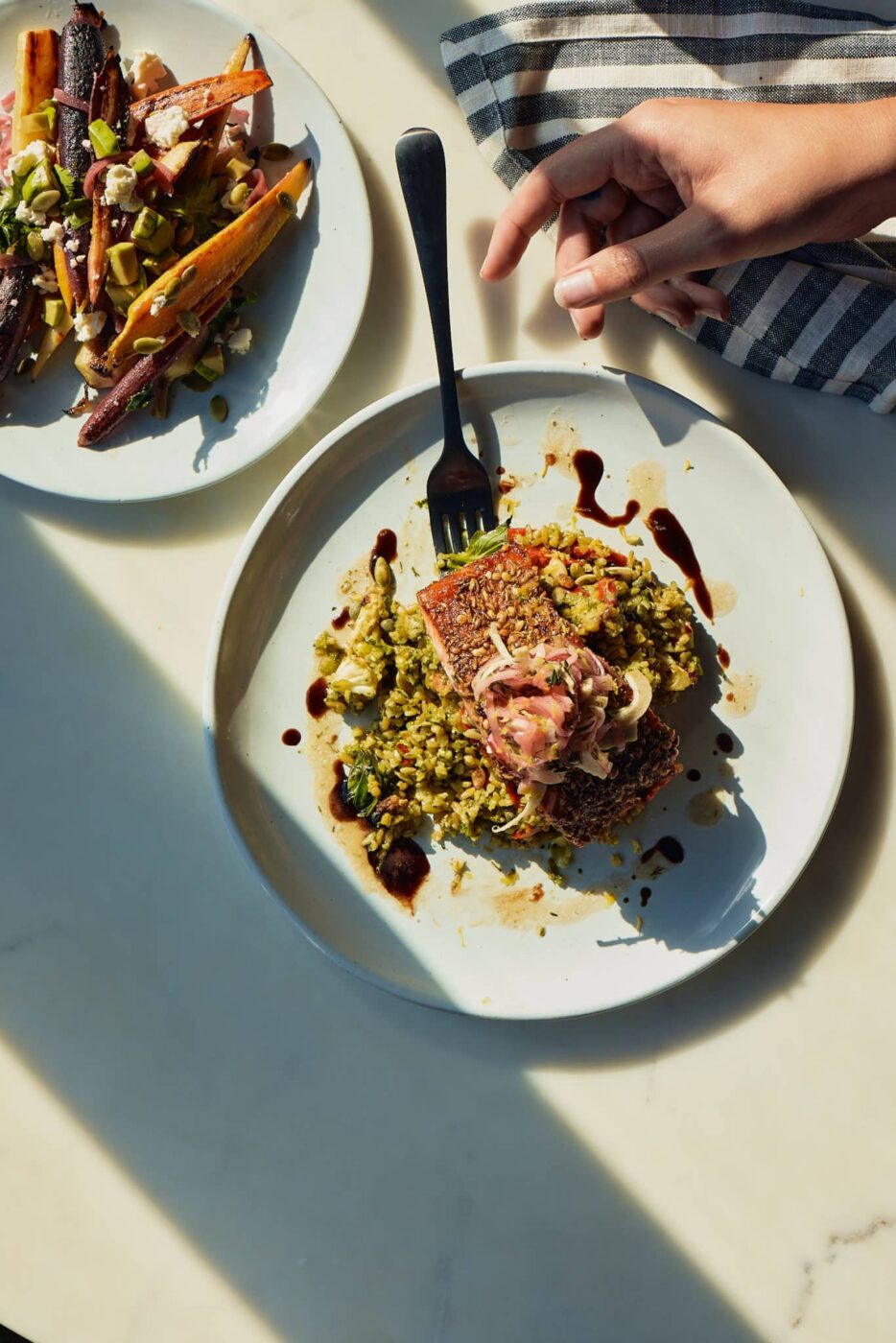 New resources from Onsite